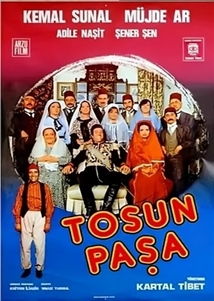 Opis:
Late 19th century in Alexandria. Two traditionally rival Turkish families, "Seferoglu"s and "Tellioglu"s are competing for the "Green Valley". The winner will be determined by Daver Bey, who has a beautiful young daughter, Leyla. Both families try to arrange a marriage between a man from their family and Leyla, so that Daver Bey will be inclined to give the green valley to his "relatives". Tellioglus, who are behind in the race, desperately find a final solution: They will fake their idiotic butler, Saban, as the highest ranked Ottoman soldier in Egypt: Tosun Pasha.
Pogledajte slične sadržaje
Komentari
Lazy, uneducated students share a very close bond. They live together in the dormitory, where they plan their latest pranks. When a new headmaster arrives, the students naturally try to overthrow...

Based on a true story set in 1948, customs officer Mehti is faced with the duty of formally setting up the border between Turkey and Syria, dividing his hometown. He is unaware of the pain that will...

Učitelj razredne nastave i idealist Nazim odlazi u mirovinu te se vraća kući u Istanbul, nakon 15 godina provedenih u jednom siromašnom selu u istočnoj Turskoj. Dok ga njegova djeca uljudno...