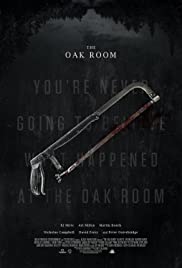 Opis:
During a raging snowstorm, a drifter returns home to the blue-collar bar located in the remote Canadian town where he was born. When he offers to settle an old debt with a grizzled bartender by telling him a story, the night's events quickly spin into a dark tale of mistaken identities, double-crosses and shocking violence.
Pogledajte slične sadržaje
Komentari (1)
Lucas, an out-of-work nuclear scientist, struggles with tension in his marriage after his wife Violet mysteriously terminates her pregnancy without his consent. As Lucas' physical health begins to...

1973. godine, mlada medicinska sestra prisiljena je da radi noćnu smenu u staroj bolnici, kada nestane struje širom Britanije. To potakne tajanstvene sile unutar zidova da krenu u krvavi pohod na sve...

Mlada buntovnica uzima učešće u studiji sna koja će postati pravi košmar. U njemu ona tone u dubine svoga uma i otkriva zastrašujuću moć snova...