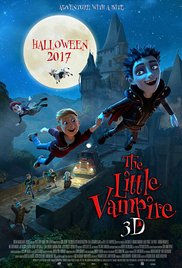 Opis:
Omiljeno štivo dječaka Antuna jezive su priče, osobito o vampirima. No, dobio je priliku upoznati pravog pravcatog mladog vampira Rudija, pa i njegovu sestricu Anu i štoviše postali su i prijatelji. Rudi se pokazao kao drag i ljubazan, a najveću zapetljanciju u cijeloj priči izazvali su pokušaji Antunovih roditelja da upoznaju njegova prijatelja. Ali kako objasniti neobičnosti vezane uz Rudija - otrcani crni plašt koji nikada ne skida i koji k tome neobično zaudara, zašto dolazi u sitne noćne sate i zašto stalno rukom pokriva usta...

TV program
Pogledajte slične sadržaje
Komentari
Based on the popular books, the story tells of Tony who wants a friend to add some adventure to his life. What he gets is Rudolph, a vampire kid with a good appetite. The two end up inseparable, but...

Trinaestogodišnji Adam kreće u potragu za svojim davno izgubljenim ocem. Ubrzo otkriva da mu je otac ni više ni manje nego legendarni Bigfoot koji se godinama skrivao duboko u šumi kako bi zaštitio...

Vjeverica Surly i njegovi prijatelji Buddy, Andie i Precious otkriju kako gradonačelnik Oaktona želi sagraditi divovski, zabavni park na njihovom staništu. Kako bi spriječili gradonačelnika da uništi...