Film
Purge of Kingdoms: The Unauthorized Game of Thrones Parody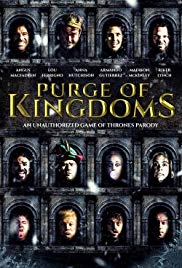 Opis:
In a parody of "Game of Thrones," nobles from the Eight Kingdoms gather for Purge Fest 3000 to try and put an end to their violent conflicts, while members of the Fat King's own family conspire to overthrow him.
Pogledajte slične sadržaje
Komentari
Priča o mladiću koji svjedoči susretu Billyja Kida sa šerifom Pat Garrettom …

Radnja ove akcione serije smeštena je u drugu polovinu 19. veka, u kinesku četvrt San Franciska u kojoj besni brutalni ulični rat. Prati Ah Sahma, poznavaoca borilačkih veština koji je u ovaj grad...