Film
Never Sleep Again: The Elm Street Legacy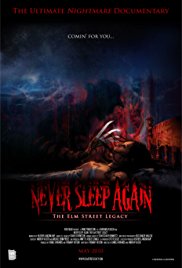 Opis:
Explore the origins of "dream demon" Freddy Krueger in this award-winning documentary that takes you behind the scenes of the most frightening and imaginative horror franchise in motion picture history!
Pogledajte slične sadržaje
Komentari
A documentary exploring 30 years of the "Friday The 13th" film series featuring all new interviews with cast and crew from all 12 films and various horror fans and filmmakers.

The nightmare is always the same: dirty brown hat, striped sweater, and a glove of razors. Neil is having a lot of trouble sleeping lately, and the terrors are getting worse. Fortunately, help soon...

Inspired by the critically-acclaimed book, Crystal Lake Memories: The Complete History of Friday the 13th takes viewers behind the mask on an epic journey into the making of the landmark horror...