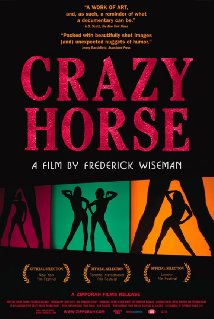 Opis:
In Crazy Horse, he pulls back the curtain on Le Crazy Horse de Paris, a landmark that has prided itself as "the best nude dancing show in the world" since 1951. Le Crazy Horse sets itself apart from the average strip club by adhering to exacting standards in choreography, lights and physiques. The erotic revue is composed of songs and sequences that blend traits of old-fashioned burlesque, Bob Fosse and Cirque du Soleil, designed not only for the enjoyment of men, but also couples.
Pogledajte slične sadržaje
Komentari
Documentary filmmaker Frederick Wiseman takes us inside the Massachusetts Correctional Institution Bridgewater where people stay trapped in their madness.

The National Gallery in London is one of the great museums of the world with 2400 paintings from the 13th to the end of the 19th century. Almost every human experience is represented in one or the...