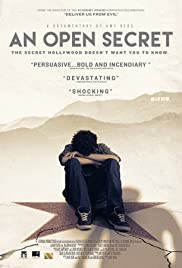 Opis:
AN OPEN SECRET looks at the lives of children betrayed and abandoned by a system that essentially funnels them towards sexual predators without any oversight or regard for their safety. It documents not only these young peoples' experiences, but also how some have emerged stronger for their speaking out. It beg the questions of why children working in entertainment aren't afforded the same protections they are afforded at school, and argues for more effective treatment and stronger penalties for child sex offenders.
Pogledajte slične sadržaje
Komentari (3)
V severni Kaliforniji je v 70. letih duhovnik Oliver Grady služboval v različnih farah. Cerkveno vodstvo ga je selilo iz ene župnijo v drugo in v vsaki je hitro pridobil zaupanje in spoštovanje...

West of Memphis is an examination of a failure of justice in Arkansas. The documentary tells the hitherto unknown story behind an extraordinary and desperate fight to bring the truth to light. Told...