TV serija
1971: The Year That Music Changed Everything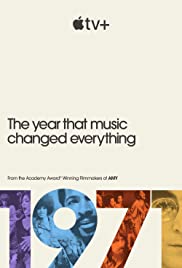 Opis:
The musicians and soundtracks that shaped the culture and politics of 1971.
Pogledajte slične sadržaje
Komentari
A small group of Turkish soldiers in a remote patrol station in eastern Turkey face their near-certain death, during a time the conflict between Turkish Army and separatist militant organization PKK...

Can this be?! Mai has joined the enemy! Is she brainwashed, or is there some deeper reason for her unexpected transformation?

Samo jedan nepromišljen potez može da dovede do toga da svoju svadbu provedete na nebu. Zapalivši džoint, umesto na veselje, glavni heroj filma Vadik, odlazi u nekakvu Nebesku kancelariju gde treba...